Content Marketing Agency Danbury CT
Achieve measurable success and ROI with our dedicated content marketing agency in Danbury CT. Take your marketing to the next level.
Elegant Themes
Responsive & affordable web design will help your business deliver a better customer experience
Excellent Customer Service
It's personalized, competent, convenient, and proactive creating a hassle-free customer experience.
Cost Effective
 The one size fits all approach means less work on the development and less money out of your pocket.
What is a Content Marketing?
CONTENT MARKETING 
Effective content marketing with copywriting services is one of the most critical elements for your Business's online success. From marketing and advertising, content marketing delivers your message in a way that will encourage your audience to take action. Most businesses don't realize that content marketing is for your consumer base and search engines. Engaging and relevant content that continues to bring value to your consumer base will ultimately make you an authoritative figure in your business's market in the eyes of search engines. That's the power of great copywriting and marketing combined. Our content marketing agency can help your business achieve incredible online success. Start today and succeed with Swytch!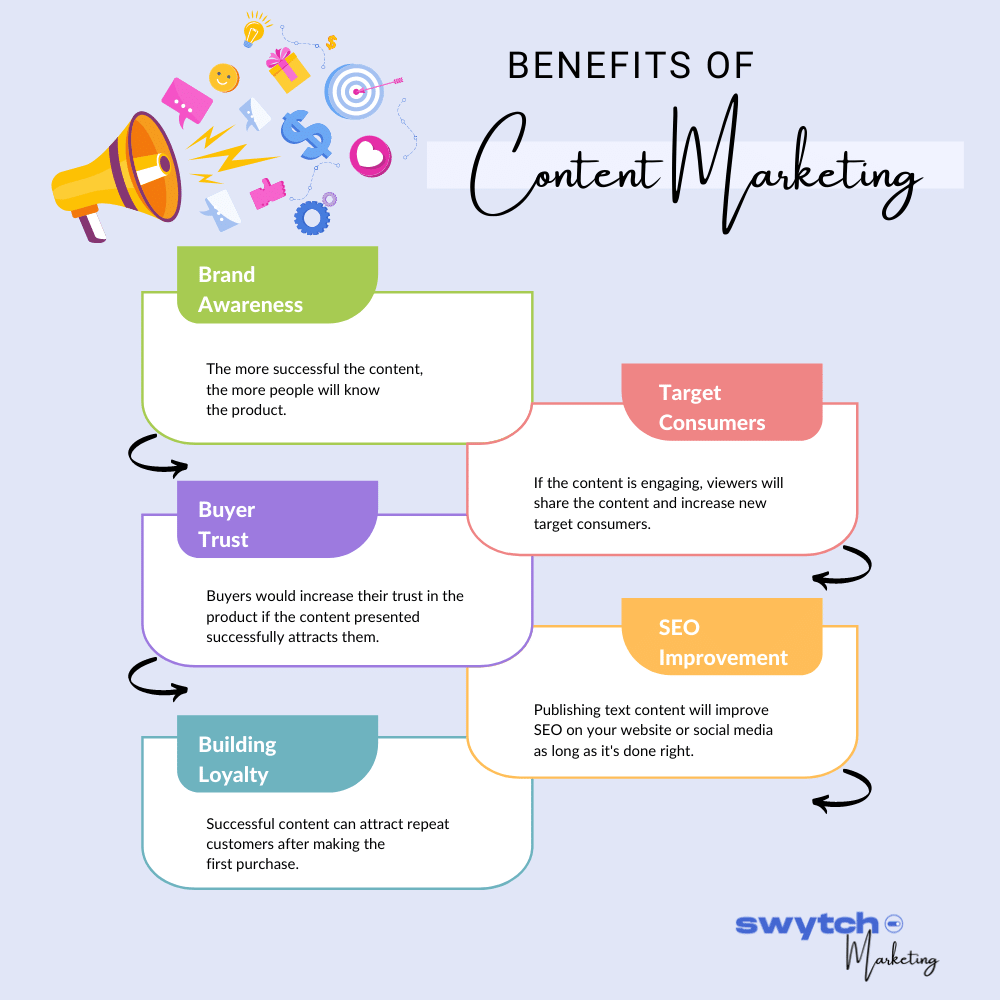 Are You Calling Your Audience to Take Action?
Content Marketing is a call-to-action that brings conversions to your business on a larger scale. Our team of content writers are effective and creative, they will get people to feel, think, or respond to your content and take action with your campaign.
A powerful content writer will catch your reader off guard and deliver a message that resonates with them. Good content creates a connection between consumers and your business. We are an expert content marketing agency that provides amazing copywriting services, that will deliver your message in the most effective, organized, & direct way
Words matter. We are a leading content marketing agency in Danbury Connecticut, that creates captivating, engaging, and relevant content that breaks through to your consumers. Content Marketing is a crucial element in your business's online success.
Ready To Achieve Online Success And Convert Prospects Into Customers?
Frequently Asked Questions
WHAT IS THE PURPOSE OF CONTENT MARKETING?
Mainly, we use this as a lead generation tool but effective valuable content creates brand awareness, sales, reach, engagements, and customer interactions, and honestly helps build trust and loyalty to your brand. 
How does Content marketing work
You want to bring your brand to life by giving your audience effective methods to engage in like branded graphics, blog posts, social posts, videos, ebooks, infographics, flyers, landing pages, webinars, etc. Remember it's all about brand identity and awareness. 
What is the best overall marketing strategy?
You should factor in 3 categories 
1. Owned Media- Your website, your blog on your website, your social platforms, customer email list
2. Paid Media- Google PPC (pay-per-click) Facebook ads, press releases 
3. Earned Media- organically shared content (shared for free) through your social feeds, blogs articles, podcasts 
Should you combine SEO WITH YOUR CONTENT MARKETING?
Yes, yes, and yes!! Here at Swytch, we focus on keyword research and density while targeting authoritative industries and cross-linking content to increase traffic and rank high in the search engine results. We factor in the on-page, off-page, and technical SEO combined with valuable, relevant, optimized content creating the perfect strategy to leapfrog your competitor. 
What are the 5 goals of content marketing?
1. Driving traffic to your website or landing page. (increase conversions)
2. Brand awareness 
3. Build trust and loyalty by engaging with customers (building relationships is key)
4. Bring in revenue (sales are key)
5. Boost SEO efforts (visibility, drive traffic (organic & relevant), user experience, engagements, higher CTR (click-thru rate) lead generation, drive sales (increase ROI)